FormaPure DNA Performance and Data
Genomic DNA Isolation from FFPE
Increasingly, Formalin-Fixed, Paraffin-Embedded (FFPE) samples are an essential part of many next-generation sequencing (NGS) sample prep workflows, specifically in the field of cancer research. High quality extraction protocols focused on yield and purity are essential to achieving reliable results. FormaPure DNA now provides an automation-ready, SPRI-based extraction reagent kit to support your evolving research needs. Most notably, it provides significant time savings in the form of reduced turnaround times and less than 15 minutes of hands-on time when automated on a Biomek liquid handler.
Minimal hands-on time
Dramatically increase productivity through automation - low to high throughput
Proven compatibility with NGS and other downstream applications
Consistent extraction performance
NEXT-GENERATION SEQUENCING COMPATIBILITY
POSITION
GENE
FORMAPURE DNA SAMPLES WITH VARIANT CALL (MAX 6)
FORMAPURE DNA VARIANT FREQ (%)
EXPECTED ALLELIC FREQ (%)
140453136
BRAF
6
12.2
10.5
55599321
KIT
6
9.2
10
55242464
EGFRΔ
6
1.8
2
55259515
EGFR
6
3.1
3
55241707
EGFR
6
25
24.5
25398281
KRAS
6
13.7
15
25398284
KRAS
6
5.3
6
115256530
NRAS
6
17.2
12.5
178952085
PIK3CA
6
17.5
17.5
178936091
PIK3CA
6
9.1
9
Table. Extraction with FormaPure DNA supports detection of low frequency variants.
FormaPure DNA maintains detectability of low frequency variants without introducing extraction based experimental bias. DNA extracted using FormaPure DNA is suitable for the most stringent downstream applications including Next-Generation Sequencing.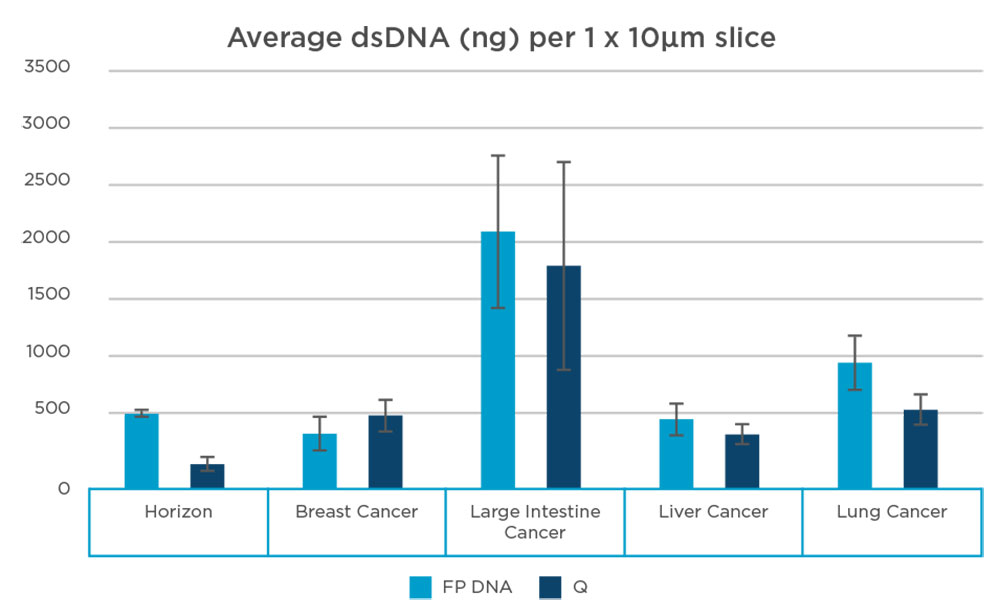 Average (n=8) yield per 10 μm slice. FormaPure DNA (FP DNA) compared to competitor (Q) FFPE DNA extraction kit. Multiple formalin fixed paraffin embedded (FFPE) cancer tissues were compared, including the Horizon Discovery- HD200 FFPE reference tissue.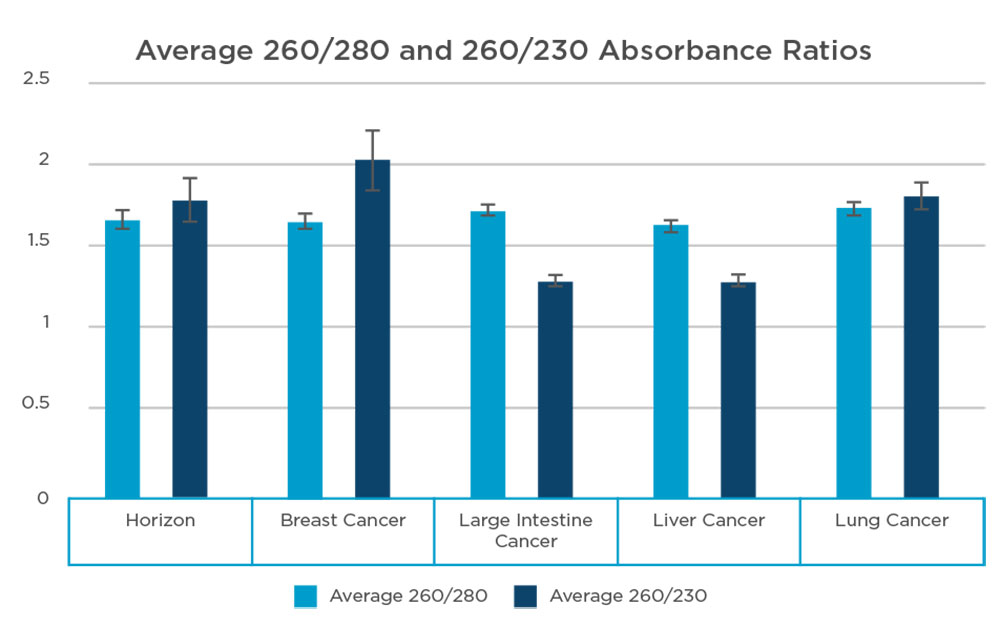 Average (n=8) 260/280 absorbance ratios per 10 μm slice from FormaPure DNA (FP DNA) extraction method. Multiple formalin fixed paraffin embedded (FFPE) cancer tissues were evaluated, including the Horizon Discovery- HD200 FFPE reference tissue.
Visual Workflow

Deparaffinize FFPE tissue
Lysis FFPE tissue
Decrosslink DNA
Transfer remaining lysate for DNA workflow
Treat samples with RNase A
Bind DNA to magnetic beads
Separate magnetic beads from contaminants
Wash magnetic beads with 80% ethanol to remove contaminants
Elute DNA from magnetic beads
Transfer eluted DNA to a storage plate
Products for DNA Isolation from FFPE
FormaPure DNA is available in three kit sizes based on your throughput needs.
PRODUCT ORDERING INFORMATION
B89230
Formapure DNA-50 Preps
B89231
Formapure DNA-96 Preps
B89232
Formapure DNA-384 Preps
Not intended or validated for use in the diagnosis of disease or other conditions.
Beckman Coulter, the stylized logo, and the Beckman Coulter product and service marks mentioned herein are trademarks or registered trademarks of Beckman Coulter, Inc. in the United States and other countries. All other trademarks are the property of their respective owners.