Remote Desktop Sharing with BeckmanConnect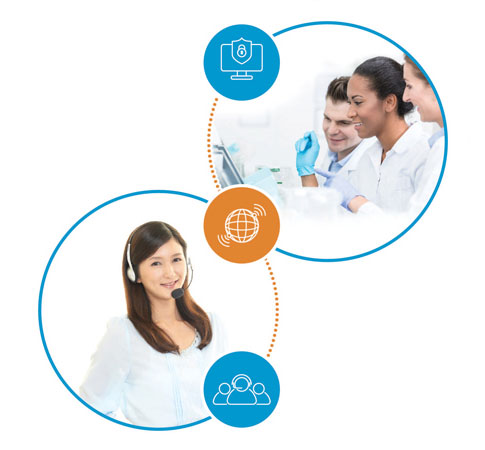 The BeckmanConnect remote connectivity platform* offers a secure remote connection linking you to our team of hardware and application experts who, side-by-side, help to troubleshoot and resolve issues via direct access to your instrument.
With real-time visibility, Beckman Coulter specialists are able to quickly understand your issue and move efficiently toward resolution—avoiding unnecessary wait times for things that can be resolved without an onsite visit.

When onsite support is required, increased system visibility means your Beckman Coulter field service engineer arrives fully informed and equipped with the necessary requirements and parts to get you back up and running fast.
Search BeckmanConnect in our FAQ Center to learn more.
*BeckmanConnect is currently available for the Vi-CELL BLU cell viability analyzer and Biomek 4000, Biomek NX/NXp. Biomek FX/FXp, Biomek i-Series workstations, and CytoFLEX series instruments that have controller operating system Windows 7 or higher. We plan to expand access to other instruments in the future.

Benefits
Efficiency
Secure workstation access & visibility
Real-time troubleshooting & resolutions
Seamless software upgrades, configurations & reloads
Improved system insights for faster onsite support
Productivity
Increased instrument uptime
Minimized workflow disruptions
Less operator time devoted to support calls
Reduced wait time for avoidable onsite visits
Security
Encrypted, permission-based communication controls
Secure sessions with expert Beckman Coulter support experts located within your geography
Policy configurations & customer approval required for each remote support session